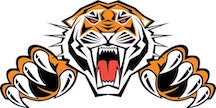 DuVal High School
#DefendTheDen
You must be eligible to participate in Interscholastic Athletics. Please review the following list with your parent/guardian. If you have questions, see your Head Coach or Athletic Director. You must complete this registration before participating (including try-outs).
Steps for being approved to participate:
- I am officially enrolled in DuVal High School.
- I received a 2.0 or above during the previous quarter.
- I am younger than age 19 prior to September 1, 2021.

- Get an up-to-date sports physical (upload a copy into FormRELeaf or turn it into your Head Coach).
*If you need physical forms, CLICK HERE!*

- Register on formreleaf.com.
- Await approval status on FormRELeaf. (You should receive an email notification. You may need to check your spam folder if you don't see it in your inbox.)
- Status must be Approved (Once everything is completed, the Athletic Director reviews everything and gives the final approval. This cannot be done by a Coach.)
Please call FormRELeaf tech support if you need assistance @ 1-844-367-6735

****Please check ALL sports that you may want to participate in BELOW***
Contact Us
Deborah Reid
shwnreid2@gmail.com
Laurie Hunt
lhunt@pgcps.org
Gerard Yavo
gerard.yavo@pgcps.org
Shawn Mitchell
shawn.mitchell@pgcps.org
Terrence Norris
Terrence.Norris@pgcps.org
Jermaine Davis
jermaine.davis@pgcps.org
John O'Hara
John.ohara@pgcps.org
Robert Langway
robert.langway@pgcps.org
Russell Brotz
rsb429@aol.com
Latia Howard
latia.howard@pgcps.org
Patrick Wilborn
patrick.wilborn@pgcps.org
Samuel Biwott
samuel.biwott@pgcps.org
Rosslyn Burrs
duvalhscheer@gmail.com
Darian McKinney
darian.mckinney@pgcps.org
Malka Ostchega
malka.ostchega@pgcps.org
DeAnthony Cloyd
globaltts@icloud.com
Willard Trice
triceburgh@yahoo.com
Follow Us :
Locations
DuVal High School
9880 Good Luck Rd, Lanham, MD 20706
There currently are no programs published for this organization